Carlisle Trail Wolf ATV Tires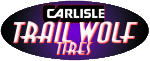 OEM tire choice for Bombardier and Yamaha.
Built on ''Blackwater'' type casing, the Trail Wolf achieves a 4 ply rating through an extra thick sidewall.
Features Carlisle's patented Rim Guard design, making this the most puncture resistant trail tire on the market today.
Features a harder rubber compound for improved wear and longer intervals between replacement.
Very economically priced, the Trail Wolf is the best value in replacement tire choices today.
ITP Trail Wolf ATV (wheel not included)
Trail Wolf
quantity
size
ply
tread
depth
price



Tire Mounting Guidelines:
TIRE AND WHEEL ASSEMBLIES CAN BE EXPLOSIVE IF INFLATED IMPROPERLY!
Proper tools, safety equipment and safety precautions must be used!
1. Use only clip-on style air chuck with long extension hose, remote filler and inflating gauge. Never hold the air chuck by hand when inflating.
2. Lube the tire and rim bead seat with tire mounting lubricant.
3. Place tire and wheel away from all personnel. Tire should only be inflated in a proper tire mounting cage. TIRE AND WHEEL MUST BE OUT OF 'LINE OF SIGHT' DURING INFLATION PROCESS!
4. Inflate tire until you hear bead seats snap, or until you reach manufacturer's maximum inflation pressure, whichever comes first. NEVER EXCEED MANUFACTURER'S MAXIMUM RECOMMENDED TIRE PRESSURE! If beads do not seat, STOP! Release all air from tire/wheel assembly. Call your tire or wheel manufacturer for advise.
5. Once tire bead is seated, disconnect chuck, re-install valve core and inflate to proper operation pressure.
ONLY TRAINED PERSONNEL SHOULD ATTEMPT TO MOUNT TIRE AND WHEEL ASSEMBLIES!




Here are links to some of our most popular products

ATV Tires - ATV Tire and Wheel Package Deals - ATV Bigfoot Kits - Sand Tire Kits - ATV AG Kits - ATV Hard Surface Kit - Kawasaki Mule Hard Surface Kits - 4 Wheeler Tires and Wheels - Wheel Spacers - Aluminum Alloy Rims - Steel Rims - GBC Tires - ITP Tires - ATV Lift Kits for Honda, Rincon, Rubicon, Kawasaki, Mule, Teryx, Polaris, Suzuki, King Quad, Yamaha, Sportsman, Grizzly, Rancher, Brute Force, Foreman, RZR, Arctic Cat, - GBC Kanati Mongrel ATV Tires - ITP Mud Lite - ITP TerraCross - Gorilla Silverback - Gorilla Silverback X-Lite - GBC Dirt Devil - Vampire Tires - Essex Surefoot Kevlar Belted - Bear Claw - Home Page



Copyright© 2020 Tires-n-Stuff. All Rights Reserved.
No part of this website may be reproduced in any form without written permission by Tires-n-Stuff.