Our ATV Wheel Spacers will extend your rim and tire outwards from the hub, giving you more clearance for oversize tires, and will give your ATV more stability. These ATV Wheel Spacers come complete with all hardware, ready to bolt on and use! Select from Aluminum ATV Wheel Spacers or Graphite ATV Wheel Spacers. Tires-n-Stuff stocks ATV Wheel Spacers for Honda, Yamaha, Suzuki, Kawasaki, Polaris, Arctic Cat, and Bombardier!
ATV Wheel Spacers! CNC Machined Aluminum
ALUMINUM ATV Wheel Spacers
Available Thickness - 1'' / 1.5'' / 2'' / (Call for 2.5'')
from $ per pair
American made ATV Wheel Spacers.
CNC machined from aircraft grade aluminum, not cast like most competitors wheel spacers.
Comes in sets of two (fronts or rears).
Featuring Dorman wheel studs (DOT automotive quality wheel studs).
Does not require removal of your wheel studs.
Lug Nuts and Studs are included with Aluminum ATV wheel spacers.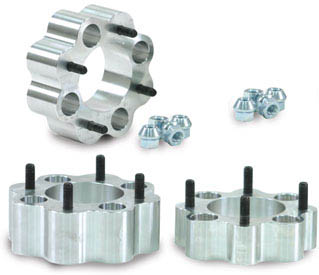 Complete with Studs and Lug Nuts

2: type the Year of your ATV here >>
3:




Here are links to some of our most popular products

ATV Tires - ATV Tire and Wheel Package Deals - ATV Bigfoot Kits - Sand Tire Kits - ATV AG Kits - ATV Hard Surface Kit - Kawasaki Mule Hard Surface Kits - 4 Wheeler Tires and Wheels - Wheel Spacers - Aluminum Alloy Rims - Steel Rims - GBC Tires - ITP Tires - ATV Lift Kits for Honda, Rincon, Rubicon, Kawasaki, Mule, Teryx, Polaris, Suzuki, King Quad, Yamaha, Sportsman, Grizzly, Rancher, Brute Force, Foreman, RZR, Arctic Cat, - GBC Kanati Mongrel ATV Tires - ITP Mud Lite - ITP TerraCross - Gorilla Silverback - Gorilla Silverback X-Lite - GBC Dirt Devil - Vampire Tires - Essex Surefoot Kevlar Belted - Bear Claw - Home Page



Copyright© 2020 Tires-n-Stuff. All Rights Reserved.
No part of this website may be reproduced in any form without written permission by Tires-n-Stuff.